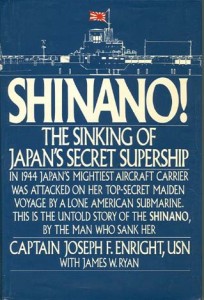 "SHINANO!" The sinking of Japan's Secret Supership. By Captain Joseph Enright. Foreword by Admiral Bernard A. Clarey, USN. During World War II Enright was the skipper of the USS Archerfish (SS-311). In November 1944, he torpedoed and sank the 71,000-ton Japanese super-carrier Shinano, the largest ship ever sunk by a submarine. Enright tells the dramatic minute-by-minute story of how the sinking took place. "David and Goliath" replayed in World War II. 1987 Hardback edition with dust jacket. This is not a Book Club edition. 250 pages, 27 black and white photos 2 maps and 2 diagrams of Shinano. Includes an index and a complete crew roster for this patrol aboard Archerfish.
Good Cond. – $109.88
Autographed by the author!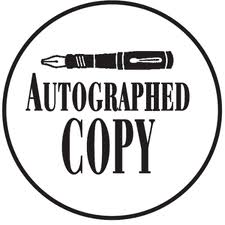 SHINANO! – hardback edition, Autographed
Other books of interest:
Find 'Em, Chase 'Em, Sink 'Em"