R. A. Cline Publishing was founded in 1998 by Rick Cline. A native Californian and the son of a World War II Navy veteran. His late father Clovis Cline served aboard the escort carrier USS Petrof Bay (CVE-80) which saw action in several crucial Pacific campaigns against the Japanese. The carrier miraculously endured some of the bloodiest battles of World War II. Taking on the enemy at; Peleliu, Leyte Gulf, Luzon, Iwo Jima and Okinawa; she survived the war untouched.
The U.S. Army awarded his grandfather, Carter Cline the purple heart following dangerous combat duty and an injury against the German's in (1918) World War I. Rick's great-great grandfather fought courageously in the Civil War. Amon Cline, who lived in Cherokee County, Georgia, enlisted in the Confederate Army in 1862. Captured by the Union forces in July of 1864, Amon was a POW (prisoner of war) for nearly a year before his release in 1865.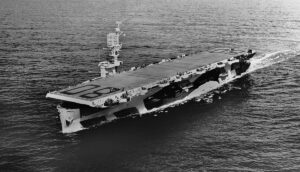 Above: USS Petrof Bay, underway in the Pacific, June 1944.
An avid student of World War II history, Rick Cline has written three books dealing with U.S. ships in the Pacific war, one of which is USS Snook. An award-winning photojournalist, and a former magazine editor, Rick's work has appeared around the world in hundreds of magazines, newspapers and tabloids including the Los Angeles Times, UPI (United Press International), the National Enquirer, AP (Associated Press), The Star, The Globe and the Orange County Register to name a few. A professional photographer since 1981 Cline also has an excellent eye at creating unique and exciting images.
Although he has toured several submarines and warships, in 2001 the United States Navy gave Rick Cline an opportunity of a life-time—an exciting voyage aboard the nuclear fast-attack submarine USS Helena (SSN-725). The first-hand experience which took him on a heart-pounding dive to a depth of 700 feet, gave Cline a better understanding of America's Silent Service. Prior to the Helena adventure in the Pacific, Rick boarded a restored World War II B-25 bomber for a thrilling one-of-a-kind flight in the blue skies over California—another date he will always remember.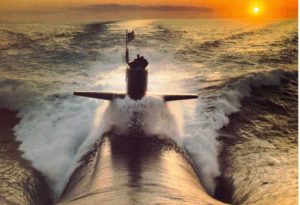 Above: Nuclear fast-attack submarine USS Helena (SSN-725)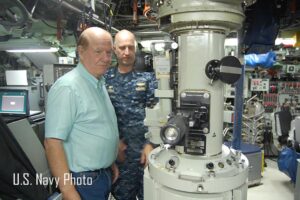 Above: 2014, in the control room, of the nuclear fast-attack submarine USS Buffalo (SSN-715)
In 1999 R. A. Cline Publishing established the website SubmarineBooks.com. Since our meager beginnings in California, the business has continued to grow with six naval titles already published under our name—all but one focus on World War II submarines. We have since, expanded with used and rare book's. As our title base increased in size and selection, customer traffic multiplied.
Have a look at our discounted prices that will save you money on your favorite and rare titles. Flat-rate shipping at just $4.99 per order is another popular feature. You might also enjoy our special discount page, loaded with titles under $10. In 2018, R.A. Cline Publishing proudly celebrated its 20th anniversary. Now located in beautiful, Yuma, Arizona, we continue to keep our customers first.
R. A. Cline Publishing would like to Thank You, our valued customers and loyal clients who have helped make our website the very best on the internet!
God Bless America!