ISBN # 0-9663235-3-X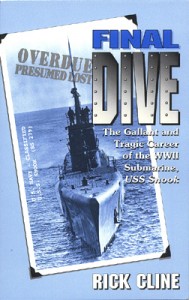 "FINAL DIVE" The Gallant and Tragic Career of the WWII Submarine, USS Snook. By Rick Cline. One of the top-scoring U.S. submarines of World War II, the record of USS Snook (SS-279) stands high within the fraternity known as "The Silent Service." Commissioned in October 1942, Snook started her war action with Commander Charles "Chuck" Triebel. During her nine aggressive war patrols against the Japanese, the Gato-class submarine sank 19 vessels totaling nearly 74,000 tons of enemy ships. Another 13 vessels suffered damage inflected by her torpedoes. Yet despite her impressive accomplishments, Snook's name has remained overshadowed by her other, more famous sisters. Less than five months before the end of World War II, Snook disappeared without a trace, taking a brave and seasoned crew of eighty-four to their watery graves. Since her mysterious loss in April 1945, the daring and heroic story of the USS Snook has never been told. Final Dive takes you on patrol in the ill-fated Snook to relive her entire career, as the history of this famed submarine is told for the very first time! Author of Submarine Grayback and Escort Carrier WWII, Rick Cline has unearthed a wealth of information about Snook, providing another exciting, historic and tragically true story of underwater warfare in World War II. Utilizing declassified U.S. Navy documents, vital patrol reports, and interviews with former officers and crewmen, Cline exposes the most complex and detailed information ever written about the USS Snook. Includes many rare and unseen photos. New softbound, 238 page, 17 black and white photographs, a complete USS Snook crew roster and an index, no maps.
New Book sale priced Just  $17.99
Book Reviews:
Five Stars for Final Dive! Barnes & Noble.com / Amazon.com say… "Pure Submarine Action Thriller!"
"Congratulations on your success as one of Americas premiere novelists in submarine literature. There is much within your style that separates you from other authors, I do enjoy reading your material… Thanks for your work!" – Jeff La Croix / Torpedoman / USS Snook (SSN-592)
"Great job on Final Dive! I enjoyed reading it… You did a lot of hard work and it shows, loved all the excellent photos! The men of the Snook are nobly honored by your hard work." – Paul Crozier / www.WarFish.com
"You made it a lively account of her [Snook's] life and it is a well-told story. I had a hard time putting it down each evening. Thank you again for giving us another wonderful book." – Larry R. Cote'
"Just finished Final Dive. It's a great story, well-written and I found it hard to put down once I started reading. It is the heroic tails of the men who served in USS Snook. Original letters from several of the service men give the reader a since of how they felt during their tours. Their thoughts, hopes and desires to be a part of the action. The story of the Snook is tragic, and gives the reader an insight to the life aboard a US submarine and the hell that is war!" – Bill Chamberlain
"I just finished reading Final Dive, EXCELLENT, EXCELLENT job. The excerpts from the letters was a great touch. I really enjoyed it, almost captivating. You really did your homework." – Ivor Jeffreys
"I wanted to let you know how much my family and I appreciated your researching and writing about the career of the USS Snook, as well as the final patrol of the USS Scorpion. As you mentioned in several places our brother Don Scheu served on both subs. He was a wonderful, capable guy who rendered great service to the Navy he loved. Thank you again for highlighting the brave and successful efforts of our men in the submarine service." – E. M. Scheu, Jr.
The Author:
Born in Southern, California, Rick Cline is the son of a World War II Navy veteran––his father, Clovis Cline, having served aboard the escort carrier USS Petrof Bay (CVE-80). The flattop saw action in several crucial Pacific campaigns. An award-winning photojournalist, Cline's work has appeared around the world and in publications such as the National Enquirer and World Book Encyclopedia. A long-time enthusiast of World War II history, his first book, "Escort Carrier WWII" examines the history of his father's ship Petrof Bay. Cline's second book, "Submarine Grayback" covers the World War II history of USS Grayback (SS-208) lost in the Pacific in February 1944. Rick continues to pursue untold submarine stories of World War II with the release of his newest title, "Final Dive."
Other books by Rick Cline:
Other books of interest:
Find 'Em, Chase 'Em, Sink 'Em"
All Rights Reserved: This book is copyrighted by R.A. Cline Publishing, 
Yuma, Arizona. No part of this book may be reproduced (published) 
or transmitted on any form or by any means, electronic or mechanical, 
without written permission from the author or publisher, except for 
the inclusion of brief quotations in a book review.