ISBN # 0-9660938-0-1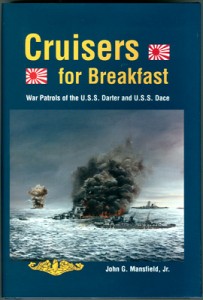 New Book  $29.95
Each book signed by the author!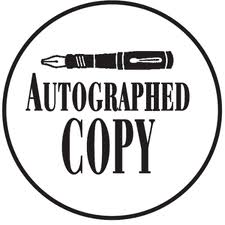 Compare our new book prices:
AllNavyBooks: $29.95
Amazon.com: $54.24
Barnes & Noble: $103.12

Book Reviews:
"What great read!!! Having been married to a submariner this book adds a lot to trying to understand what they go through." Sheri G.
"Cruisers for Breakfast" is a book about two fleet submarines in World War II… The saga of the USS Darter, lead ship in it's class, and USS Dace, is an epic tale of the sea and the courage of sailors in war. "Cruisers for Breakfast" details how the Darter and Dace were working as a 'Wolfpack' seeking-and-destroy team in search of enemy shipping. Researched and written during a five-year period by Tacoma (WA.) author John G. Mansfield, Jr., the 302 page book is based on personal interviews with nearly every surviving wartime crewmember from the two submarines. The resulting story is historically accurate, humanly compelling and loaded with suspense and action-filled excitement. Besides the many extensive interviews and the wealth of historical research Mansfield collected, he also used many previously unpublished photos donated by the veterans of Dace and Darter to add an exciting visual presence to the book. Historians and combat readers alike will find a treasure trove of new and factual materials in this excellent volume." – Bob Rosenburgh – Veterans Magazine
"John Mansfield has compiled a very engrossing but maddening book about a pair of American subs in the Pacific in World War II… He presents along with the 'formal' histories of the boats a terrific assortment of anecdotes, tall-tales, wisecracks, and you-had-to-be-there stories collected from the crews. The highlight of the book is the joint patrol of Dace (her fifth) under Claggett and Darter (her fourth) under McClintock when they departed Brisbane, Australia in September 1944… After raising the alarm by getting off critical contact reports when they spotted [Japan's] Admiral Kurita's heavy warships (including the battleships Yamato and Musashi) steaming for Tacloban, the two subs––straining to pull every knot possible out of their engines––managed to get ahead of the Japanese force and into perfect positions for a coordinated ambush. Darter struck first. Four torpedoes hit the heavy cruiser Atago, Kurita's flagship, and in eighteen minutes she went down with over 300 hands. Darter's second volley scored two hits on the heavy cruiser Takao which quickly went dead in the water and began to list. The remainder of the force immediately changed course away from Darter, steering––exactly as the sub skippers had intended––into Dace. Claggett's torpedoes sank the heavy cruiser Maya. Dace and Darter pursued the Takao, but, having been unable to get a navigational fix for some time, Darter ran hard aground on Bombay Shoal and Dace had to break-off the pursuit to rescue the crew of her stranded partner. Darter stayed put for quite awhile; Mansfield includes photos of the rusting hulk still aground and upright in 1946 and 1952. The book goes on to chronicle Dace's sixth, seventh, and eighth patrols, then describes how McClintock and most of Darter's crew were assigned to the new [sub] Menhaden and took her from the yard in Manitowoc down the Mississippi, but were unable to go on patrol before the war ended. The book concludes with the post-war careers of Claggett and McClintock and an account of the 1952 expedition to destroy all the live ordnance still aboard gallant Darter." – Stone & Stone, Second World War Books
The Author:
John G. Mansfield, Jr., was born in Tacoma, Washington in 1942 and entered the U.S. Navy following his graduation from high school. Mansfield earned his dolphins aboard the World War II submarine USS Menhaden (SS-377). In 1975, he graduated from the University of Puget Sound, with a Bachelor's Degree in Communications. John now lives in Graham, WA. with his wife Kathleen.
Other books of interest:
Find 'Em, Chase 'Em, Sink 'Em"
Fleet Submarines Of World War Two