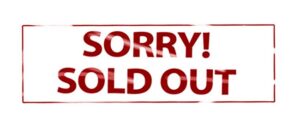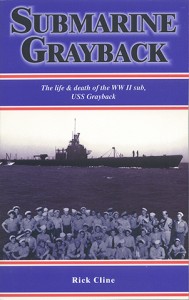 "SUBMARINE GRAYBACK" The Life & Death of the WWII Sub, USS Grayback. By Rick Cline. Her fate would be a tragic death in the depths, but before she was lost, USS Grayback (SS-208) compiled an impressive battle record. The submarine and her courageous crew made a name for themselves sinking nineteen enemy vessels, including another submarine and a destroyer. At the height of her remarkable career, in February 1944, Grayback mysteriously disappeared. When she made her fatal plunge to the bottom of the Pacific, eighty brave Americans, including her gallant captain, were lost. Author Rick Cline takes you aboard this famous submarine for all 10 of her historic war patrols. Grayback sunk over 66,000 tons of enemy ships. She single-handedly executed a daring and bold rescue mission from a Japanese held island. Her pharmacist's mate performed his first surgery—removing the appendix from an ailing crew member. Cline made exclusive use of the Grayback war patrol and action reports, conducted personal interviews and correspondence with several of her former crewmen. Cline also wrote, Escort Carrier WWII and Final Dive. First and only 1999 Softbound edition, 252 pages, 31 black and white photographs, and index and a complete USS Grayback crew roster, no maps. Ultra-rare and now out-of-print!
Sorry, sold out!
Autographed by the author!

The following is included in the final pages of this book about USS Grayback. Written in 1999, twenty years before the wreck was discovered.
"What really occurred on February 26, 1944, will never be known. Based on previously obtained research information, here is what I believe occurred on the fateful day.
Flying at 200 plus miles per hour, below Grayback's SD Radar, the Japanese [Kate] pilot could have easily caught the sub flat-footed. Releasing his bombs at the precise moment, a direct hit could indeed have destroyed Grayback. If they were already engaged in a crash dive, the exploding bombs may have caused enough  damage, making  it impossible  for  her crew to  stop  their fatal plunge to the bottom. Had the submarine been hit by the bombs before a dive was executed, there might have been some survivors thrown into the water from the explosion. In this case, at least a few dead or injured men and some debris would have been found in the water. In addition, there would have been an oil slick on the surface of the sea when the enemy destroyers arrived. I believe Commander Moore or the OOD had successfully cleared the bridge and started the dive before the enemy bombs fell. More than likely Grayback had survived the initial bombing.
Using his last torpedoes on board, Commander Moore sank the Japanese cargo ship, Ceylon Maru on February 26. After the sinking, Grayback remained submerged and slowly slipped away from patrolling enemy escorts. Several hours later when it was all clear, she returned to the surface. Moore ordered a charge on their batteries as the submarine fled the area at full speed. With her bow turned towards Midway, a triumphant Grayback was heading home. A Japanese plane suddenly appeared. Flying below the SD Radar beams, the Kate pilot had surprised Grayback. Lookouts sighted the intruder and Moore gave the order, "Clear the bridge! Dive, Dive!" As Grayback began to submerge in a crash-dive mode, two bombs exploded right next to the submarine. Damage to the boat was serious if not critical. Water was pouring in at a dangerous pace. Crewmen frantically worked to stem the flow of seawater.
After his successful aerial attack, the eager Japanese pilot radioed for assistance. Enemy destroyers steamed to the area as quickly as possible. Perhaps the same tin can's that were encountered when Commander Moore sank the Ceylon Maru earlier that day. With their boat seriously damaged, the crew of Grayback was fighting for their life and as a result, unable to run silent. Pinging for the submarine's underwater position, the destroyers easily located Grayback and began dropping depth charges. The sub was jolted by several devastating explosions, all extremely close. The depth charges proved fatal, rupturing Grayback's already damaged hull. The submarine helplessly plunged to the bottom of the ocean.  Within a  few minutes, fuel oil and debris bubbled to the surface, marking the final resting-place for the USS Grayback.
Eighty brave souls were lost that day-all forever entombed in the submarine. The boat now rests somewhere on the bottom of the East China Sea. The exact location remains a mystery."
November 2019 more facts are discovered:
After viewing the Grayback wreck video and still images it appears much of the above opinion is factual. First, the submarine hatches are all closed, so the sub was not sunk with men on deck. Next, the bow-diving planes are extended. On the surface these planes are in the up-right position, against the hull. Therefore the sub was either in the process of diving or already submerged when she took her fatal blow. Like countless other war-time pilots on all sides, this Japanese pilot believed he too had scored a fatal kill in his attack on Grayback. The majority of surface attacks on submarines performed by rogue planes, proved fruitless. And based on the facts we now have, I do not agree the Kate pilot solely sunk this famous submarine. What most people do not know, is the Kate pilot dropped his bomb, then radioed a near-by destroyer. Only after the destroyer attacked did oil and bubbles come to the surface. One final point, the sub was sunk on February 26, 1944. Many others say the 27th. – Rick Cline
Book Reviews:
"An Unsung Hero of World War II—USS Grayback SS-208. After 55 years the true story of the USS Grayback is finally told! Submarine Grayback represents the true essence of how our submarines held the line against the powerful Japanese fleet in WWII. This book is must reading for anyone who appreciates the sacrifices made by our submarines in WWII… the brave officers and men of the Grayback finally have their story told and what a special story it is." – Captain Albert D. Saleker USN (Ret.)
"You did an outstanding job, I couldn't have done any better myself. My deepest appreciation for this book, or the story would never have been told… Job well done!" – Merlin 'Bourgy' Bourguignon, USN (Ret.) / USS Grayback survivor
"I have always been fascinated by submarines, and am particularly interested in the stories of those subs lost during WWII, as was Grayback. At first I was somewhat put off by the amount of daily minutia Cline includes, but eventually I fell into the rhythm of what life must have been like for her crew. I also like how Cline made each war patrol a single chapter, and my interest grew as I neared that final patrol. The account of her final days—and the speculation as to how she was lost—is both poignant and fascinating… That the story shines through in the end is a testament to the valor of the men of Grayback. I applaud Rick Cline for bringing their heroic tale to life, and I would recommend the book." – L. S. Jorgensen
"I thoroughly enjoyed your 'Masterful' history of the WWII submarine Grayback. It was brilliantly researched and highly readable." – Nick Christodoulou / USS Scabbardfish / WWII Sub Vet.
"I recently purchased your book regarding the USS Grayback from Amazon.com. I just finished ordering two more and in all likelihood will order more later. I can not thank you enough for this book! You see, Wilbur E. Campbell was my great-uncle. As you know, he died aboard the Grayback. While I never met him, I have heard stories about him all of my life from my father who was also a Navy man. This book gives us so much insight into his life and death there are no words to express our appreciation. Until they died, Uncle Wilbur's mother and family believed he was simply "lost at sea" and would return. I wish they could have read your book." – Karen Crile Gaston
"I just finished reading your book, Submarine Grayback. Thank you for writing it. I have read many accounts of the submarine war in the Pacific but yours brought into clear view the amazing story that each submarine must have had. In the case of Grayback, it was a tragic story, but also simply remarkable. I found, incidentally, by doing a web search on Grayback which took me to Amazon.com. I was looking for something new about the boat, and I hit pay dirt" – Bob Littlejohn
The Author:
Born in Southern, California, Rick Cline is the son of a World War II Navy veteran––his father, Clovis Cline, having served aboard the escort carrier USS Petrof Bay (CVE-80). The flattop saw action in several crucial Pacific campaigns. An award-winning photojournalist, Cline's work has appeared around the world and in publications such as the National Enquirer and World Book Encyclopedia. A long-time enthusiast of World War II history, his first book, "Escort Carrier WWII" examines the history of his father's ship Petrof Bay. Cline's second book, "Submarine Grayback" covers the World War II history of USS Grayback (SS-208) lost in the Pacific in February 1944. Rick continues to pursue untold submarine stories of World War II with the release of his newest title, "Final Dive."
Other books by Rick Cline:
Other books of interest:
Find 'Em, Chase 'Em, Sink 'Em"
All Rights Reserved: This book is copyrighted by R.A. Cline Publishing, 
Yuma, Arizona. No part of this book may be reproduced (published) 
or transmitted on any form or by any means, electronic or mechanical, 
without written permission from the author or publisher, except for 
the inclusion of brief quotations in a book review.