ISBN # 978-0-9663235-5-9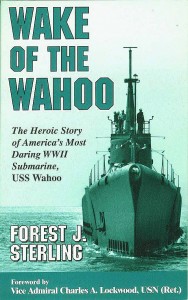 "WAKE Of The WAHOO" The Heroic Story of America's Most Daring WWII Submarine, USS Wahoo. By Forest J. Sterling. Foreword by Vice Admiral Charles A. Lockwood, Jr., USN (Ret.). From Pearl Harbor to her last and fatal voyage in 1943, the heroic story of America's most daring World War II submarine, as told by the only surviving member of her crew—Forest J. Sterling. USS Wahoo (SS-238) was the most successful American submarine in the World War II Pacific Fleet. She was the first to penetrate an enemy harbor and sink a Japanese ship. And was the first to wipe-out an entire convoy single-handedly. In her 11 short months of life, Wahoo managed an incredible 21 kills, totaling over 60,000 tons of ships. Then, just 45 minutes before leaving Midway (island) for what would be her last and fatal patrol, Yeoman Forest Sterling was suddenly transferred to other duty. The result is this book; Wake of the Wahoo, Sterling's fantastic yet completely authentic account of a remarkable crew, captain and the ship they lived and died for. Wahoo's captain—the aggressive and brave Lieutenant Commander Dudley 'Mush' Morton was the pride of the submarine fleet. He would earn the Navy Cross at the helm of Wahoo. The sub's executive officer—the daring Lieutenant Richard H. 'Dick' O'Kane. O'Kane would later receive the Medal of Honor in command of the submarine USS Tang (SS-306). Forest Sterling tells the story as no one else could—Wake of the Wahoo is a true account of American submarine warfare from a man who lived it … and live to tell about it.
This new softbound edition has 222 pages, 12 black and white photographs, a USS Wahoo crew roster, glossary, a complete bio on the author and an epilogue written by the late Forest Sterling in 1997. In 2011 the book was again up-dated, with information about the 2006 discovery of the USS Wahoo wreck site. No index or maps.
New Book sale priced Just  $17.99
Book Reviews:
"Wake's a winner… One sub book that's a must read!"
"Many will remember the newspaper stories during World War II and the photo of Wahoo with a broomstick tied to her periscope signifying a clean sweep… But [here is] the full story from the yeoman who made all the patrols … except the last one." – Rear Admiral Eugene B. Fluckey, USN (Ret.) Medal of Honor recipient and author of Thunder Below.
"One of the finest naval stories to come out of World War II." The Springfield News-Leader
"Wake of the Wahoo tells the story of men who go down to the sea 'in ships that have their load-lines over their hatches.' From the uninhibited point of view of an enlisted man Chief Yeoman Forest J. Sterling, who made five war patrols in the Wahoo, with keen observation and vivid coloring has written the story of a fabulous ship, of her skipper—who like Gunga Din, 'didn't seem to know the use o' fear'—and of life in a World War II submarine." – Vice Admiral Charles A. Lockwood, USN (Ret.) Author of Sink 'Em All.
"A vivid account of the sinking of 21 ships by the Wahoo and a fine portrait of her skipper, 'Mush' Morton, now as much a part of naval lore as John Paul Jones." – The Birmingham News
"Reading this book is like listening to a well-told story, given in person." – The Springfield Republic
"Compelling true to life narrative of war at sea… This is a deck-plate view of submariners at the height of war in the Pacific during WWII. As a Navy Sailor, I found myself drawn into the book simply because of it's no frills language and realistic portrayal of heroes that don't know they are heroes, in action. I recommend this for anyone looking for an inside view of Navy life in general and submarine Sailors in particular. Bravo Zulu Chief Sterling for a great story!" – Joseph Kane / Florida
The Author:
Born in Trenton, Missouri in 1911, Forest J. Sterling was just 3 years old when his family moved to Henryetta, Oklahoma. After graduating from high school in Ordway, Colorado, Sterling joined the U.S. Navy in 1930. Seven years later he left the Navy, and after traveling the country, settled in Los Angeles (CA.). When war broke out in 1941, Sterling re-enlisted in the Navy and requested duty in submarines. One year later, Forest Sterling reported aboard USS Wahoo (SS-238) as her new Yeoman. Home on leave in the summer of 1943, Forest married his wife Marie. With Wahoo, Sterling became sensitive to a growing feeling among his shipmates that the submarine would not survive the war. He tried to laugh it off by telling everyone that, since he was going to see the year 2000, they had nothing to worry about as long as he was on board. Then it happened: Just minutes before she sailed on her ill-fated war patrol Sterling was miraculously transferred and the Wahoo was lost.
After attending stenography school in San Diego, CA., Sterling eventually returned to the Pacific before the end of World War II. In 1956, he retired from the U.S. Navy as a Chief Petty Officer. Following retirement, Sterling spent two years attending Ventura College (CA.) earning an Associate of Arts degree. He then wrote "Wake Of The Wahoo" in 1960. When asked why he wrote the book, Sterling said; "I just wanted to tell about the fine officers and enlisted men who went to their deaths in that sub, so folks could learn what life in a sub is like, particularly during combat." "Wake Of The Wahoo" was the first book on the submarine service written by an enlisted man. In 1963, the United States Naval Institute chose Sterling's "Wake Of The Wahoo" as one of the three best books written by an enlisted man from World War II. Since that time, "Wake Of The Wahoo" has become a submarine classic. Living in Gulfport, Mississippi, Forest Sterling passed away in May of 2002 from congestive heart failure—just six days after celebrating his 91st birthday.
For more about Forest Sterling read our Interview with the famous author
Naval History Immortalizes Commander Dudley 'Mush' Morton, and his Wahoo
The World War II "hero" submarine USS Wahoo was among 52 American submarines that made the supreme sacrifice during World War II. But before Wahoo went to a watery grave, the sub and its skipper, Commander Dudley W. "Mushmouth" Morton, racked up an extraordinary combat record. In his book, "Wake of the Wahoo," the sub's chief yeoman, retired Navy Chief Petty Officer Forest J. Sterling, said Wahoo flew a string of more than 20 miniature Japanese flags, symbolizing the number of enemy vessels she'd sunk. Sterling called Morton "a natural leader and born daredevil" and "an uncommonly talented submarine officer." Morton was endeared by his Naval Academy (Annapolis, Md.) classmates as "Mushmouth" because of his knack for yarn-spinning.
In Morton's 10 months of command, Wahoo's impressive "firsts" included being the first sub to successfully attack an oncoming enemy destroyer using the "down-the-throat" shot and first to wipe out an entire convoy single-handedly. Another "first" possibly propelled "Mush's" executive officer, then Lieutenant Commander Richard H. "Dick" O'Kane, into "daredevil" status, too. Naval Historical Center researchers at the Washington (D.C.) Navy Yard said the most extraordinary of Morton's many innovations aboard the Wahoo was having O'Kane man the periscope. O'Kane earned three Silver Star medals for valor aboard Wahoo and left after its fifth patrol to skipper his own boat, the USS Tang. He went on to sink 31 ships, more than any other U.S. sub, and to earn the Medal of Honor and retire as a Rear Admiral.
"Postwar examination of enemy records reveals a report that, on October 11, 1943, in La Perouse Strait, "Our plane found a floating sub and attacked it with three depth charges." That may be the epitaph of the Wahoo and 80 American fighting men," retired Navy Vice Admiral Charles A. Lockwood wrote in the foreword to Sterling's book, first published about 15 years after the war. The October 18, 1943, edition of "Time" magazine glorified Wahoo's last patrol as achieving "one of World War II's most daring submarine penetrations of enemy waters, a feat ranking with German Gunther Prien's entry at Scapa Flow, the Japanese invasion of Pearl Harbor, the U.S. raid in Tokyo Bay."
When the "daredevil skipper" died, his claimed sinkings exceeded those of any other U.S. sub commander: 17 ships for 100,000 tons. A postwar accounting readjusted this tally to 19 ships and 55,000 tons. In terms of individual ships sunk, Morton was one of the top three U.S. sub skippers of the war, according to Naval Historical Center researchers. Commander "Mush" Morton and his Wahoo became legends. "Mush" received three Navy Crosses in his lifetime and a fourth posthumously "for extraordinary heroism and outstanding course as commanding officer of the USS Wahoo during action against enemy Japanese forces…." He also held the Army Distinguished Service Cross. Wahoo, named after a dark blue Caribbean food fish, earned six battle stars for World War II service.
Other books of interest:
U.S. Submarine Attacks During World War II
All Rights Reserved: This book is copyrighted by R.A. Cline Publishing, 
Yuma, Arizona. No part of this book may be reproduced (published) 
or transmitted on any form or by any means, electronic or mechanical, 
without written permission from the author or publisher, except for 
the inclusion of brief quotations in a book review.