ISBN # 0-9643849-9-X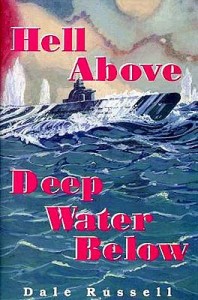 "HELL ABOVE DEEP WATER BELOW" By Dale Russell. Nothing fully compares with the drama of isolation, tension and constant danger experienced by submarine crew members encased in their heavily armed undersea predator. During World War II, they fought above and below the surface of the ocean––for months on end.
Following his high school graduation, author Dale Russell joined the U. S. Navy and soon found himself in the "Silent Service." Russell quickly places you within the hull of a fighting American World War II submarine, from which like him, you will not come out the same as when you boarded her. As a torpedoman aboard USS Flying Fish (SS-229), Russell took part in two perilous Pacific war patrols. His last was the daring and dangerous, "Operation Barney," where nine U.S. Fleet submarines penetrated the Sea of Japan in a massive wolf pack effort in the summer of 1945––one of the boats, USS Bonefish (SS-223) was lost! Russell takes you "there," into the forward torpedo room of Flying Fish and describes his own experiences with surviving enemy depth charges, sweltering 129-degree heat and navigating through Japanese mine fields on this special top-secret patrol. Russell tells of humor, courage, bravery and even battle fatigue.
Self-published in 1995 by the author Dale Russell, "Hell Above Deep Water Below" is now exclusively available through R. A. Cline Publishing / SubmarineBooks.com. This new hardback, has a color dust jacket. 212 pages, 14 black and white photographs, 2 maps, a fleet boat diagram and an index.
Retail price is $24.95, save $8.96
New Book just $15.99
Book Reviews:
"I read your book from cover to cover and found it well-written, technically correct, and a missing page of history from our submarine war in the Pacific. It will augment any military history library. I found it fascinating, will prize it highly and will read it many times in the years I have left to me." – Captain Marvin Blair USN (Ret.)
"Congratulations on your book Hell Above, Deep Water Below. It's a terrific account from one who was really there." – Carl LaVO author of Back From The Deep
"This story is a classic, written from an enlisted man's point of view. A real-life adventure which anyone with military experience can relate to and every reader will enjoy." – William R. Wolfe, Editor / Polaris Magazine
"This is an interesting account of a dedicated young American's life and experiences in submarines during the second half of World War II, and his readjustment and adoption to create a successful life after the war. The accurate and gripping battle sequences take the reader through the hell above and both the safety and danger of the deep water below." Admiral Walter L. Small, USN (Ret.) Former Commander Submarine Force U.S. Pacific Fleet
"Dale Russell's thoughtful biography is one of several World War II recollections recently written… It covers just one year of the author's life, but one in which like many young men of his generation—he was plucked from his family to fight an unknown enemy in the alien and dangerous environment of a [American] fleet submarine in the Pacific. Unlike most naval biographies, written by a retired officer this is written from the point of view of an ordinary, enlisted seaman, sweating away in the filthy, slimy stench of a tiny torpedo room. But this is not a book about survival—survival against the odds of missions in enemy waters, depth charges, and treacherous seas. This book should be read by all who are interested in the human experience in war and peace." – Ray Taylor
"Dale Russell joined the Navy right out of high school as patriotic fever swept across the US after the bombing of Pearl Harbor. He served the last two war patrols of the USS Flying Fish before the war's ending sent him home to an uncertain future. His first patrol found him cruising the south Pacific, engaging Japanese shipping during the island-hopping campaign. His second patrol was probably the most exciting time of his life, as his boat was sent, along with 8 others, into the impenetrable Sea of Japan. Courageous submarine pilotage was required to get the 9-boat task force through the minefields and natural barriers on the southern coast of Japan. …the boats sent torpedoes against targets at each port along Japan and Korea, sinking whatever they could, photographing the facilities for future intelligence ops, and taking prisoners for interrogation. The surprise attacks were a complete success, but resulted in the loss of a single submarine. Russell's interpretation of that loss is vividly recounted in the book, one of the better passages. The book does a nice job of placing the reader in the forward torpedo room, Russell's station, which is a nice change from the books written by former skippers and admirals. …the book is a good afternoon read." – Troy Whigham
The Author:
Born in 1924, Dale Russell joined the United States Navy immediately following his graduation from high school. During World War II, he saw action aboard the submarine USS Flying Fish (SS-229). Russell's life exemplifies the typical adventurous spirit of the submariner. He has always sought challenges in a variety of forms, which include; boxing, motorcycle riding, breaking horses and even Alpine ski racing. An avid lover of nature, Russell has backpacked on many wilderness trails and hiked into secluded fishing areas. His love of the outdoors, and the spirit of adventure, brought Dale into rock climbing. He has climbed in the Rocky Mountains, the Cascade Mountain Range, and even the California and Nevada High Sierras. Russell's enthusiasm eventually took him to the Alps and the summits of the famous Matterhorn. His activities served to spice up his life while he devoted 22-years to high school classroom teaching and 7-years to school administration. In 1949, Dale received a Bachelor of Science degree from the University of Mansfield (Mansfield, PA.). He earned a Master of Arts degree from the University of Denver (Denver, CO.) in 1952. Russell also studied at the University of Nevada (in Reno), Oregon State University, Portland State University, and the University of Oregon. Russell lived in Tillamook, Oregon, until he died in 2003.
Other books of interest:
All Rights Reserved: This book is copyrighted by R.A. Cline Publishing, 
Yuma, Arizona. No part of this book may be reproduced (published) 
or transmitted on any form or by any means, electronic or mechanical, 
without written permission from the author or publisher, except for 
the inclusion of brief quotations in a book review.