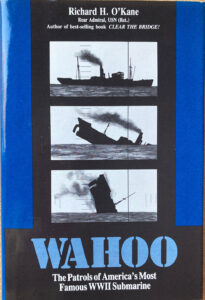 "WAHOO" The Patrols of America's Most Famous WWII Submarine. By Rear Admiral Richard H. O'Kane, USN (Ret.) author of "Clear The Bridge." Before taking command of the submarine USS Tang, Lieutenant O'Kane was the Executive Officer on the ill-fated USS Wahoo (SS-238). With O'Kane at his side, Wahoo's Commander 'Mush' Morton sets the pace in the Pacific submarine force during World War II. This great book makes for excellent reading along side Forest J. Sterling's  "Wake Of The Wahoo."  Wahoo was lost with all-hands in October 1943, not long after O'Kane left the boat. 1987 hardback (Book Club) edition with dust jacket, 345 pages, 32 black and white photos, 8 maps and 27 diagrams, glossary and index. Two maps of Wahoo's patrols inside front and back covers.
Good Cond.  $26.88
The Author:
Rear Admiral Richard Hetherington "Dick" O'Kane was born in Dover, New Handshire in February 1911. O'Kane graduated from the U.S. Naval Academy in May 1934 and received submarine instruction in 1938, then assigned to USS Argonaut (SS-166) until 1942. Lieutenant O'Kane joined the pre-commissioning crew of the new submarine USS Wahoo (SS-238) and served as her Executive Officer on five war patrols with Lieutenant Commander Marvin Kennedy and later under legendary Lieutenant Commander Dudley "Mush" Morton. Morton established a record as an excellent tactician, as he preferred to run the demanding analysis and plots while his XO (O'Kane) manned the periscopes, a reversal of standard practices at the time. In July 1943, Lieutenant Commander O'Kane was detached from Wahoo and became the Commanding Officer of the USS Tang (SS-306). Wahoo was lost with all hands in October 1943. In five war patrols, O'Kane and Tang sank 24 Japanese ships totaling over 227,000 tons. On a patrol performing 'Lifeguard Duty' Tang rescued 22 American airmen. On Tang's final patrol, the sub was in the Formosa Strait when she was struck by her own flawed torpedo (running in a circle). Commander O'Kane was on the bridge during the surface night attack (October 24–25, 1944) and was swept off the sub as it sank beneath his feet. O'Kane and a handful of Tang survivors were held as a Japanese prisoners (POW) until the war's end some ten months later. Following his release, Commander O'Kane received the Medal of Honor for his "conspicuous gallantry and intrepidity" during his submarine's final operations against Japanese shipping.
In the years following World War II, Commander O'Kane served with the Pacific Reserve Fleet, was Executive Officer of a submarine tender and was Commander Submarine Division 32. Promoted to the rank of Captain in July 1953, O'Kane commanded the submarine tender until June 1954 and then became Commander Submarine Squadron Seven. Captain O'Kane retired from active duty in July 1957 and, on the basis of his extensive combat awards, was simultaneously advanced to the rank of Rear Admiral. Admiral O'Kane died in Petaluma, California, in February 1994, he was 83 years of age.
Other books of interest:
U.S. Submarine Attacks During World War II