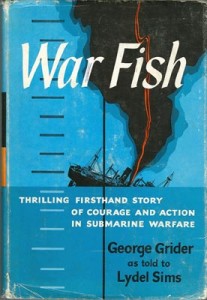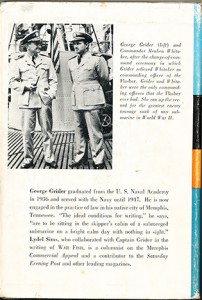 "WAR FISH" By George Grider with Lydel Sims. War Fish is a true story of the 'silent service'––a service that sank more than half the Japanese tonnage destroyed in the Pacific in World War II. Captain George Grider, a veteran of five submarines and nine patrols, tells of their heroic service as he lived it, and of the mystery, romance and loneliness that bound together the men who were responsible for it. A 1936 graduate of the U.S. Naval Academy George Grider had a colorful career in American submarines during World War II. Following his successful completion of the U.S. Navy's Submarine Warfare School, Grider was assigned to the USS Skipjack (SS-184). He was aboard USS Wahoo (SS-238) for her first three exciting Pacific patrols. As a lieutenant the young officer served under famed skipper, Commander Dudley "Mush" Morton. And his executive offer was Richard "Dick" O'Kane. Departing Wahoo, Grider was transferred to Pollack (SS-180)––then advanced to executive officer on the newly commissioned USS Hawkbill (SS-366). Now a seasoned veteran of the "silent service" the skilled submariner was appointed skipper of the high-scoring USS Flasher (SS-249). In just two patrols, Commander Grider sank 6 enemy ships, totaling over 40,000 tons. He remained with Flasher until she was decommissioned at the end of the war in 1945. This is the true story of World War II submarine action in the Pacific, as told by one of the finest skippers of the war. The author tells a brutally honest and hard-hitting story of his time in the submarine service, the men he served with, including his R and R. Most have agreed this is one of the best submarine books to come from World War II. Ultra-rare 1958 Hardback edition with dust jacket. 282 pages, no maps, photos or index. Long out-of-print!
Good Cond.  $59.00

Book Reviews:
"Up from the impassive depths of the sea has come a book that, more than any other, tells the definitive story of the submarine's war beneath the surface." – New York Times
"I picked this little book (paperback, 185 pages, 1959) up on a whim and I loved it. Mr. Grider is a good storyteller and honest about his actions and feelings. He served on various subs in the Pacific and was a commander of several including the Flasher, his last, which set the tonnage sunk record for the entire U.S. sub fleet in WW2. The book covers all the action seen by Mr. Grider and includes exciting descriptions of attacking Japanese ships and humorous situations that occurred in submarine life. I don't know if Mr. Grider is still alive but from this book I know he is a man of integrity and courage. I would have liked to met him. Anyone who served on submarines or enjoys true wartime narratives will be glad they read this man's story. I am not aware a film was made from this story but, if not, it should have been." – Ronald Brackney
"A fascinating account of the development of unrestricted warfare undersea against Japan, narrated by a deadly gentleman capable of compassion and regret. Marvelous!" – James P. McCauley
"The most silent, secret and desperate drama of World War II was probably in the war patrols of U.S. submarines… War Fish succeeds not only in recreating vividly the trigger-tense atmosphere of the conning tower as the torpedoes speed to their mark, but in some subtle way we live out the war-time life of a career naval officer as he works his way up finally to his own command, the redoubtable Flasher, top-scoring submarine of the entire Pacific… It is good to have this record of one of the great undersea captains to remember." – New York Herald Tribune
"One of the best war books of the decade." – Indianapolis Times
The Author:
George W. Grider was born on October 1, 1912 in Memphis, Tennessee, the son of Lieutenant John MacGavock Grider, and Mrs. Marguerite Grider. His father served in the U.S. Army during World War I and was killed in action. Young George attended University School and Southwestern University, Memphis, Tennessee before his appointment, to the U.S. Naval Academy, Annapolis, Maryland in 1932. While at the Academy Grider was a member of the Swimming Team; Captain of the Water Polo Team; Editor of the "Log"; Vice President of the Class of 1936 and received a Letter of Commendation from the Superintendent of the Naval Academy. George was graduated and commissioned Ensign on June 4, 1936. Following graduation he had consecutive duty aboard the battleship USS Mississippi (BB-41) and the destroyer USS Rathburne (DD-113). In 1939, George had instruction at the Submarine Base, New London, Connecticut and upon completion of the course, reported for duty in December 1939 aboard the USS Skipjack (SS-184). On May 31, 1941 he was transferred to Submarine Division Seven, as Engineer Officer and while in the above duty he had temporary duty as an instructor at the West Coast Sound School, San Diego, California from May 31, to March 2, 1942. Grider reported to the Navy Yard, Mare Island, California on March 11, 1942 in connection with fitting out the submarine USS Wahoo (SS-238) and was assigned duty aboard upon her commissioning on May 15th. For duty aboard the Wahoo, Grider was awarded the Silver Star Medal and is entitled to the ribbon for, and a facsimile of, the Presidential Unit Citation awarded the submarine. Lieutenant Grider served as Executive Officer of the USS Pollack (SS-180) from February to November 1943. He then reported to the Manitowoc (WI.) Shipbuilding and Dry Dock Company, in connection with fitting out the new submarine USS Hawkbill (SS-366). Grider sailed aboard that submarine from her commissioning on May 17, 1944 until October 1944, receiving a Bronze Star Medal for his services and a promotion to the rank of Commander. Upon detachment from Hawkbill, Commander Grider assumed command of the USS Flasher (SS-249) on October 31, 1944. In company with the USS Hawkbill and USS Becuna, Flasher set out upon her Fifth War Patrol as a Coordinated Search and Attack Group, sinking four, 10,000-ton tankers and one 1,700-ton destroyer. For her Sixth War Patrol, Flasher, in company with the USS Bashaw, sank one 25,000-ton freighter, one 75-ton sea truck and two 50-ton luggers. Bringing the Flasher safely home at the conclusion of World War II, Grider was awarded the Navy Cross. The Flasher was decommissioned in March of 1946. April 1946, Grider assumed command of the USS Cubera from her captain, Roger W. Paine, Jr., who had served with Grider aboard the Wahoo. Following a sudden heart attack, Commander Grider elected to retire from active Navy duty. On December 1, 1947 he officially retired from the U.S. Navy in the rank of Captain. Captain Grider earned three Letters of Commendation which authorized him to wear the Commendation Ribbon with two bronze stars as well as the American Defense Medal; the Asiatic-Pacific Area Campaign Medal and the World War II Victory Medal. Following his retirement, Captain Grider earned a law degree from the University of Virginia. His wartime memoirs, co-authored with Lydel Sims, were published in 1958 under the title "War Fish." In 1964 George Grider was elected to the 89th Congress as Representative from the State of Tennessee. He served one term and was unseated in 1966. He continued to practice law in Memphis until his retirement. George W. Grider died on March 20, 1991 at the age of 78.
Other books of interest: