ISBN # 978-0-306-81519-5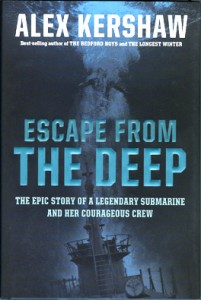 "ESCAPE FROM The DEEP" The Epic Story of a Legendary Submarine and Her Courageous Crew. By Alex Kershaw. In October 1944, the American submarine USS Tang (SS-306) was already legendary—it had sunk more enemy ships, rescued more downed airmen, and pulled off more daring surface attacks than any other Allied submarine (to date) in the Pacific war. But on her fifth patrol, disaster struck—upon firing her 24th and final torpedo the fish suddenly malfunctioned, turned back and in an erratic run, struck Tang. The explosion was enormous, instantly killing half of the 87 man crew. The survivors who went down with Tang struggled to stay alive 180 feet beneath the surface. Above, the Japanese dropped depth charges on the stricken sub. As the oxygen quickly depleted inside the boat, some of the men made a daring ascent through Tang's escape trunk. In the end just nine men of the original officers and crew, including Tang's skipper, Commander Richard O'Kane managed to tread water until they were pulled from the dark sea by the Japanese. The Tang survivors were sent to a secret Japanese interrogation camp known as the "Torture Farm." When they were finally liberated in August 1945, the men were close to death, but they had revealed noting to their enemy. New hardback edition with dust jacket, 270 pages, 35 black and white photographs, 1 map, 1 U.S. Fleet submarine diagram. USS Tang crew survivor list, bibliography and an index.
New Book  $26.00
Book Reviews:
"Their submarine was dead, one hundred and eighty feet below the surface of the Pacific Ocean. Somehow they survived. They were tortured and beaten. Somehow they survived. Alex Kershaw has done it again as he brings to life World War II's greatest submarine survival adventure." James Bradley – author of Flags of Our Fathers
"Alex Kershaw's quicksilver storytelling skills have never been better deployed… This is one of the most powerful stories of the Pacific War, poignant, gripping, and all of it true. Kershaw tells it beautifully." – James Hornfischer – author of The Last Stand of the Tin Can Sailors
The Author:
Alex Kershaw is the author of the widely acclaimed and best-selling books "The Bedford Boys," "The Longest Winter," and "The Few".
Escape From The Deep – New hardback book
Escape From The Deep – New softbound book
Other books of interest: