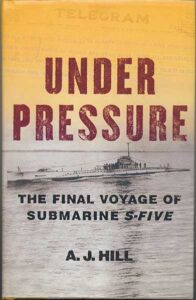 "UNDER PRESSURE" The Final Voyage of Submarine S-Five. By A.J. Hill. Launched November 10, 1919, the USS S-Five (SS-110) was commissioned in March of 1920. She had an over-all length of 231 feet and displaced 876 tons. Following outfitting and extensive crew training, S-Five departed the Boston Navy Yard on August 30, 1920 to undergo Atlantic sea trials. At 1300 on September 1, she was 40 miles off shore when the crew commenced a practice "crash dive"—and tragedy struck. A combination of errors and poor mechanical design caused the submarine to suddenly ingest some 75 tons of ice-cold saltwater and quickly dropped the boat to the ocean floor at a depth of 180 feet. With surface rescue impossible, the crew of S-Five began an incredible thirty-six hour struggle to escape a watery grave. Her electrical systems were shut-down, radio too weak to transmit and one drive motor inoperable. Aided by the compressed air still in the submarine the crew worked feverishly in the dimmest of light to plan their escape to the surface. Using only what was inside the cramped sub, the captain, Lieutenant Commander Charles Cooke, Jr. lead his forty-man crew through the unimaginable ordeal. Here for the first time is the true and complete story of the small but gallant crew of S-Five and how the brave men managed to save themselves from certain death.  2002 first hardback edition with dust jacket, 239 pages, 13 black and white photos and one S-boat diagram, index but no maps.
Good Cond. $16.88
Book Reviews:
"Doctor Hill has done a great job relating the tale of a group of true American hero's. He brings the right amount of submarine history and the history of many of the members of this fantastic story. Without this book the story would have been lost." – James A, Cook "Jim Cook", Agawam, Massachusetts.
"I've read tons of submarine story's and prefer the true ones over the fiction so this one already had a plus. The men of the S-5 should have counted their blessing everyday to have gotten out with their lives. Imagine trying to drill through the hull of a sub with a hand drill? not to mention all the other trouble they were faced with, WOW. Very good story that'll keep your attention from front to back, and great photos to go along with it." – M. Gentry "subslug," Fort Worth, Texas.
"Wow! Things just keep getting worse and [Commander] Cooke and his men teeter on the edge of eternity. This reads like great fiction and yet it's so obviously true to fact. A fabulous read!" – unknown reader
"This is an absolute "must read' for any submarine buff, but especially so if you like "S" boats. Not just for the on-edge excitement of the accident and rescue but for life in general as a submariner onboard an S-class sub in the early years of the silent service. Not much reading of this quality is available covering this time span in the subs and "Under Pressure" strikes the nail on the head. This book is proof that you don't have to have a war to have heroes, highly recommended reading." – Martin Siebert
Other books of interest:
Find 'Em, Chase 'Em, Sink 'Em"