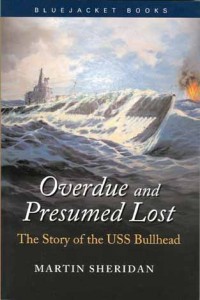 "OVERDUE And PRESUMED LOST" The Story of the USS Bullhead. By Martin Sheridan. Preface by Commander Walter T. Griffith, USN., the first skipper of USS Bullhead. Introduction by Vice Admiral Charles Lockwood, Jr., USN. The USS Bullhead (SS-332) was the last American naval vessel lost in World War II––and she was a submarine. "Overdue and Presumed Lost" is the history of Bullhead from her launching in July 1944 to her tragic disappearance on August 6, 1945. Told by Martin Sheridan, a former U.S. war correspondent. Sheridan was the only correspondent allowed on a war patrol in a submarine during WWII. The book narrative is based on a journal the author kept during Bullhead's first war patrol in March and April 1945 and supplemental information from official U.S. Navy reports. The book, supported by a unique collection of period photographs, describes the perilous undersea war in the Pacific as only a firsthand account can. Sheridan shares his own experiences as well as the humorous and poignant incidents of everyday life aboard the submarine. The author tells of near misses with enemy mines, fast dives to avoid enemy aircraft and a daring sortie to rescue three badly injured survivors of a downed B-29 bomber. Bullhead was lost with all-hands on her third war patrol, 84 men perished with the submarine. Originally published in 1947 "Overdue and Presumed Lost" was brought back to print in 2004. Used softbound edition, 176 pages, 23 black and white photos, complete USS Bullhead crew roster, impressive color cover, no maps or index.
Good Cond. $26.88

The Author:
Born in 1915, Martin Sheridan was at the famous Cocoanut Grove Club in Boston, MA., on November 28, 1942. Just 27 years old at the time, Sheridan was promoting cowboy movie star Buck Jones when around 10 pm a fire broke out. Within 15 minutes the crowded nightclub was totally engulfed in flames. The Cocoanut Grove fire killed 492 people, including Buck Jones and Sheridan's wife, Constance Misslin. Sheridan was originally included in the death toll until he was found recuperating at Massachusetts General Hospital. When the severe burns he sustained in the fire prevented him from enlisting in the Coast Guard for World War II duty, Sheridan became a war correspondent for the Boston Globe. His overseas reports included the aerial coverage of a deadly B-29 bombing raid on Tokyo, Japan. In the spring of 1945, Sheridan was allowed to join the submarine USS Bullhead (SS-332) on her first Pacific war patrol. He was the only American journalist to undertake such an assignment in World War II. Following his departure of Bullhead the submarine was lost with all hands in August of 1945. In 1947 he wrote the book "Overdue And Presumed Lost." The book covered the brief yet tragic history of the submarine USS Bullhead.
Sheridan was a successful freelance writer and during his colorful career interviewed numerous historical figures such as; President Franklin D. Roosevelt, Ernest Hemingway, Bob Hope, George Gershwin and Jacqueline Kennedy. The former First Lady spoke to Sheridan just two days before her husband President John F. Kennedy was assassinated on November 22, 1963. In 1973, Sheridan published "Comics and Their Creators: Life Stories of American Cartoonists." He also spent 20 years working in public relations for the Admiral Corporation and the New England Council. Martin Sheridan died of kidney failure on New Years Eve, December 31, 2003, he was 89 years old.
Other books of interest:
Find 'Em, Chase 'Em, Sink 'Em"
U.S. Submarines In World War II