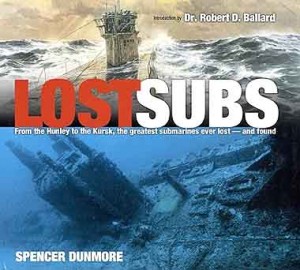 Good Cond. – $23.95
Book Reviews:
"Lost Subs" isn't heavy-duty history by anyone's standards. Skimming lightly over material covered more completely in scholarly books, "Lost Subs" allows its pictures to do the heavy lifting, and what a wise choice that is! Lavishly illustrated, "Lost Subs" covers wrecked boats of every era, and provides limited, but relevant background on each era along with discussion of the individual wrecks. Drawings, paintings, and photos bring to ghostly life boats both famous and obscure. To this former submariner, this book feels more like a tour of historic graveyards, complete with color commentary on the 'lives, times, and families' of the deceased boats, than it does academic 'History.' All submariners fear ending their lives on the bottom of the sea, though we don't discuss it much. This book shows another side to such an fate, in the remembrance of those who come after. These boats, these gravestones in the deep, punctuate and anchor that remembrance. If you want scholarly depth, or stirring stories of war, go elsewhere. If you want to remember the lost or reflect on the fate of the men who trusted their lives to the deep, then "Lost Subs" is the book for you." – unknown reader
"From the Civil War submarine Hunley through the 2000 sinking of the Russian submarine Kursk, this 176 page medium format book has eight chapters about the loss and subsequent discovery or recovery of several famous American, Russian German, Japanese, British, Australian and Israeli submarines. By far the best feature of the book is the large quantity of well-reproduced paintings and photographs. There are terrific paintings depicting night-time images of the CSS Hunley stalking the USS Housatonic in Charleston Harbor in 1864 and dramatic paintings of German U-Boats stalking their prey in the stormy WWI-WWII Atlantic. The most unique and haunting images are underwater photographs of sea growth-encrusted submarines taken on research and archeological expeditions around the world. There is a small bibliography, list of relevant websites and source for each reproduced painting or photo. I recommend this book. While not providing full details on any of these famous incidents (virtually all the submarines are the topic of at least one full book and numerous articles) this book is a good overview for anyone interested in naval and submarine history. It makes a photographic / painting supplement for the more demanding submarine researcher or buff." – C. Ryan
The Author:
Spencer Dunmore is the author of the naval history "In Great Waters" and collaborated with Dr. Robert Ballard on "Exploring the Lusitania." He has written a number of bestselling books on aviation, including "Bomb Run," "Squadron," "Final Approach" and "Reap the Whirlwind," a history of the Canadian Air Force in World War II. His most recent book is "On Great White Wings: The Wright Brothers and the Race for Flight," co-authored with Dr. Fred E.C. Culick.
Other books of interest:
Find 'Em, Chase 'Em, Sink 'Em"