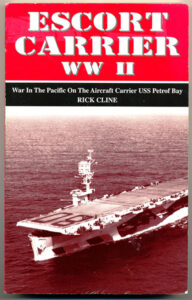 "ESCORT CARRIER WWII" War In The Pacific On The Aircraft Carrier USS Petrof Bay. By Rick Cline. Petrof Bay (CVE-80) was a small escort carrier, thrust into the Pacific war against the mighty Japanese Navy. When faced with certain annihilation her brave officers and crew never faltered. Petrof Bay miraculously endured some of the bloodiest battles of World War II. Taking on the enemy at; Peleliu, Leyte Gulf, Luzon, Iwo Jima and Okinawa, she survived the war untouched.
Relive the dangers at sea when murderous kamikaze pilots bore in for the kill. Hang-on when a Japanese submarine fires a salvo of torpedoes at the defenseless carrier. Join the crew for the wild events at the Battle of Leyte Gulf when her pilots attack the Japanese super-battleship Yamato! Following Iwo Jima, Petrof Bay pilots' gun-down 17 enemy planes in exciting aerial combat over the island of Okinawa.
In early 1946, a triumphant Petrof Bay quietly returned from World War II and was never heard from again. In fact, the fantastic tale of her extraordinary career has never been told—until now! Years of research combined with information from recently declassified U.S. Navy documents has allowed the exciting yet true adventures of this courageous ship, her pilots and her crew to finally be told. Escort Carrier WWII is written by Rick Cline, the son of a Petrof Bay crew member—he also wrote Submarine Grayback and Final Dive. Softbound edition, 224 pages, 22 black and white photographs, 1 map and an index. Includes a complete roster for squadrons VC-76 and VC-93. Long out of print, difficult to find!
Good Cond. — $99.99
Autographed, inscribed "To Don, Best Wishes, Rick Cline"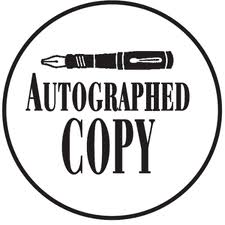 Book Reviews:
"It is one of the most interesting accounts of the history of a ship I have read. It sure brought back memories." – Richard P. Mueller / USS Eversole (DE-404).
"The way you worked in other historical events that were occurring at the same time that the Petrof Bay was in action, was superb! It gave continuity to the story and added interest. I am sure that you will receive many more complements for a job well done." – Richard A. Shipp / USS Petrof Bay
"Received your book on the Petrof Bay and was very pleased with it. It was like stepping back in time and I'm glad I bought it. And like some old Admiral might bark, 'Job well done!' Your book is nicely designed and well written." – Charles Palosaari / USS Petrof Bay
"As a member of Composite Squadron VC-93 your book provided me a fascinating snap-shot of my life and tour on the 'Mighty Petrof Bay.' …I was the keeper of the flight logs for each pilot and therefore I had an accurate account of each pilots and crews flight dates, time duration and type of mission. Your book provides a very accurate account of VC-93 missions and accomplishments. I commend you on the undertaking to compile the history of the Petrof Bay and its a fitting memorial to your Father and all of the men who served aboard her." – Donald E. Clancy / VC-93 / Attorney At Law.
"I've read so many accounts of the Leyte Gulf battle and most of them deal with only Taffy 3 CVE's. It was refreshing to read an account of that part of your book from a different view point. Thank you for writing your book it is a nice addition to my collection of CVE books." – Jim Dresser
"A magnificently written book about the USS Petrof Bay – a light carrier that saw much action in the Pacific in some of the War's bloodiest battles – Peleliu, Leyte Gulf, Luzon, Iwo Jima and Okinawa. The book rear cover describes the book as 'one of the best books ever written about any CVE' and I'm not inclined to disagree. Currently hard to find and can command high prices." eBay
"I just finished reading "Escort Carrier WW II." Thank you for preserving the story of our fathers' ship, USS Petrof Bay CVE-80. I learned things about my dad that he had never mentioned to us. Dad died in June 2015."
Donald L. Schenker OS1 USNR (Ret.)
The Author:
Born in Southern, California, Rick Cline is the son of a World War II Navy veteran––his father, Clovis Cline, having served aboard the escort carrier USS Petrof Bay (CVE-80). The flattop saw action in several crucial Pacific campaigns. An award-winning photojournalist, Cline's work has appeared around the world and in publications such as the National Enquirer and World Book Encyclopedia. A long-time enthusiast of World War II history, his first book, "Escort Carrier WWII" examines the history of his father's ship Petrof Bay. Cline's second book, "Submarine Grayback" covers the World War II history of USS Grayback (SS-208) lost in the Pacific in February 1944. Rick continues to pursue untold submarine stories of World War II with the release of his newest title, "Final Dive."
Other Books by Rick Cline:
Other books of interest:
The Battle Of Leyte Gulf – By Edwin P. Hoyt
The Battle of Leyte Gulf – By Adrian Stewart
The Battle Of Leyte Gulf – By Thomas J. Cutler
The Independence Light Aircraft Carrier
Leyte Gulf: The Death Of The Princeton
All Rights Reserved: This book is copyrighted by R.A. Cline Publishing, 
Yuma, Arizona. No part of this book may be reproduced (published) 
or transmitted on any form or by any means, electronic or mechanical, 
without written permission from the author or publisher, except for 
the inclusion of brief quotations in a book review.