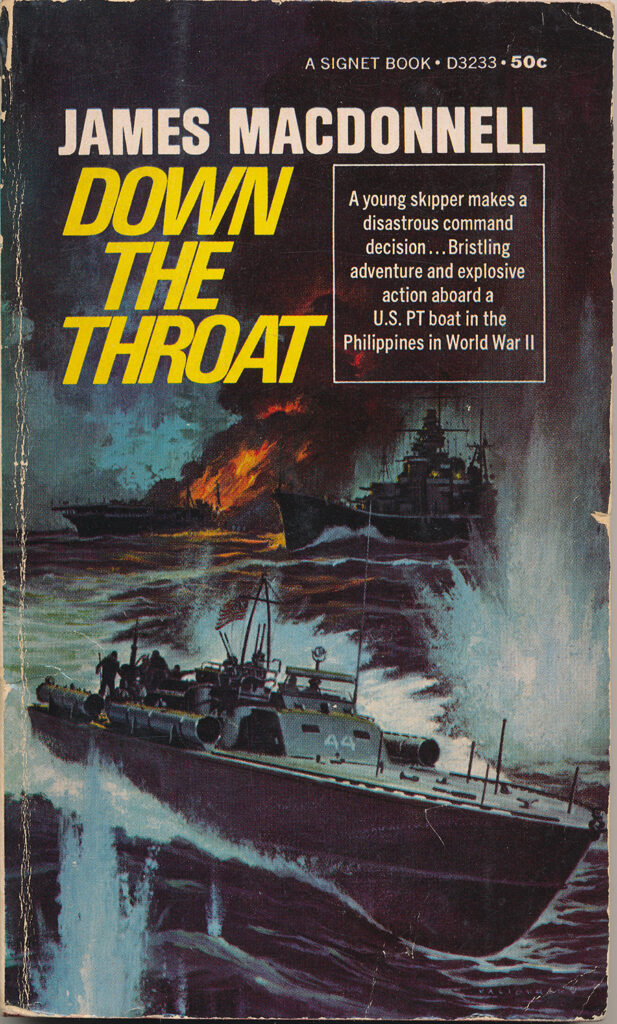 "DOWN The THROAT" By James MacDonnell. (Fiction) Lieutenant Walt Kenyon's decision to torpedo the unescorted Japanese freighter off the coat of Lucayan Island was one any commanding officer might have made. How could he possibly have know the ship was carrying 184 American and Australian prisoners of war? How could he ever forget the bloody aftermath of his order, the hundreds of burned bodies floating in the water, the hatred in the eyes of the beautiful American nurse, one of the few survivors? Down the Throat is the gripping story of a young lieutenant who makes a tragic mistake and sets out to redeem himself in the eyes of his crew, his superiors and his own accusing conscience. 1967 first edition Paperback, 127 pages, no photos, maps or index.
Fair + + + Cond. $12.00

The Author:
James E. MacDonnell is the author of countless fictional World War II titles. Born in 1917, an Australian buy birth, MacDonnell served for more than fifteen years in the Royal Australian Navy, working his way up from enlisted man to officer. He was a specialist in gunnery and saw considerable action in World War II. MacDonnell is widely recognized as an expert in Navy life and his authentic novels have been published the world over. James MacDonnell passed away in 2003, he was 85.
Other books by James E. MacDonnell: