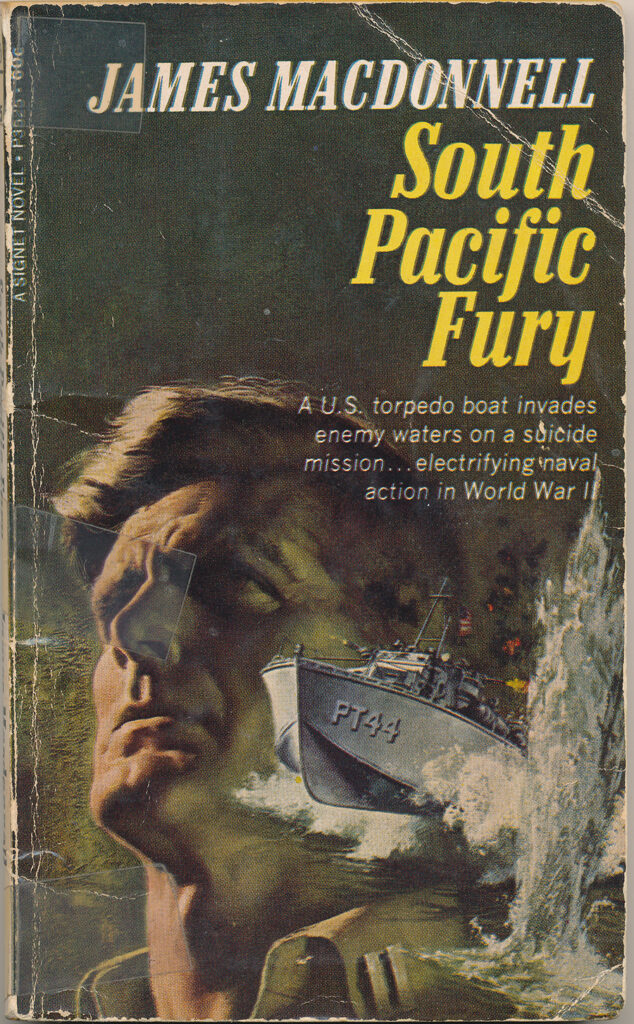 "SOUTH PACIFIC FURY" By James MacDonnell. (Fiction) The message was "top priority," and incomplete. The man who sent it was trapped on Japanese-occupied Golo Island. Captain Walt Kenyon and his torpedo crew were ordered into enemy waters on the desperate chance that Coastwatcher Tom Cook was still alive, and that his message was vitally important to the survival of the U.S. Pacific fleet. South Pacific Fury, a dangerous rescue mission a harrowing sea-chase with one U.S. torpedo boat against a Japanese armada. 1968 first edition Paperback, 126 pages, no photos, maps or index. Spine has been tapped, still appears nice for it's age, see book photo above.
Fair + + Cond. $12.00

The Author:
James E. MacDonnell is the author of countless fictional World War II titles. Born in 1917, an Australian buy birth, MacDonnell served for more than fifteen years in the Royal Australian Navy, working his way up from enlisted man to officer. He was a specialist in gunnery and saw considerable action in World War II. MacDonnell is widely recognized as an expert in Navy life and his authentic novels have been published the world over. James MacDonnell passed away in 2003, he was 85.
Other books by James E. MacDonnell: