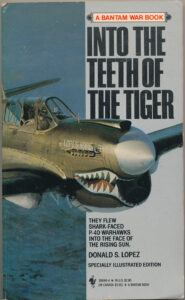 "Into The TEETH Of The TIGER" By Donald S. Lopez. Donald Lopez joined the Flying Tigers to become part of the Asian Theater's elite fighter squadron. Its mission was grimly simple: to impede the Japanese advance over the vast Chinese countryside white the 'real war' against the Axis was fought and won elsewhere. But for the men like Lopez the real war was right overhead–their American P-40s against the Oscars and Tojos of Japan. Desperately short of munitions and material, Lopez and his comrades flew from crude front line airfields, over poorly mapped territories, where a parachute jump from a stricken plane would probably end in a torturous death. Here is the gripping first-hand account of the courage and cowardice at the edge of survival; of the violence and the fury of brutal aerial combat, of terror and triumph against a ruthless, fanatical foe who gave no quarter and expected none. 1986 Paperback edition. 248 pages, 1 map, many illustrations, no photos or index.
Good + + Cond. $5.88
About the author:
Donald Sewell Lopez Sr. (July 15, 1923 – March 3, 2008) was a United States Army Air Forces, fighter and test pilot. Lopez was born in Brooklyn, New York. During his teenage years, his family moved to Tampa, Florida, inside the traffic pattern of Drew Army Air Field. He learned to fly in college, then volunteered for the Army Air Forces Aviation Cadet Program.
After earning his wings, Lopez saw combat in China as a member of the 75th Fighter Squadron. The unit was part of the 23rd Fighter Group, successor to the famed Flying Tigers. He became an ace, credited with shooting down five Japanese fighters, four in a P-40 Warhawk and one in a P-51 Mustang, while flying 101 missions. Lopez died from a heart attack on March 3, 2008. He is buried with full military honors at Arlington National Cemetery in Arlington, Virginia.
Other books of interest:
Iwo Jima – by Richard F. Newcomb