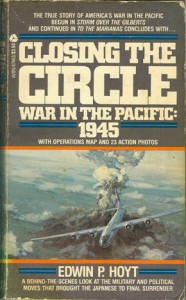 "CLOSING The CIRCLE" War in the Pacific, 1945. By Edwin P. Hoyt. A behind-the-scenes look at the military and political moves that brought the Japanese to final surrender (in 1945). The stirring account of the last sixty days of action in the Pacific. Behind-the-scenes stories of the escalating tensions between the British and the American commands. Russia's last-minute entry into the Pacific war… the high-level military and political strategy geared to bring the war to an end. The book also describes the fateful decision that brought the Japanese nation to immediate surrender… the dropping of two atomic bombs. Paperback, 240 pages with 23 black and white photos, 1 map and an index.
Fair + + + Cond.  $5.00
The Author:
Edwin Palmer Hoyt was born in Portland, Oregon, on August 5, 1923, to the publisher Edwin Hoyt (1897–1979) and his wife, the former Cecile DeVore (1901–1970). Young Edwin, became an American writer who specialized in military history. Until 1958, Hoyt worked in news media, after which he produced some 200 works of non-fiction titles.
In 1943, Hoyt's father, then the editor and publisher of The Oregonian, was appointed by President Franklin D. Roosevelt as the director of the Domestic Branch, Office of War Information. The younger Hoyt served with the Office of War Information during World War II, from 1943 to 1945. In 1945 and 1946, he served as a foreign correspondent for The Denver Post (of which his father became editor and publisher in 1946) and the United Press, reporting from locations in China, Thailand, Burma, India, the Middle East, Europe, North Africa, and Korea.
Edwin Hoyt subsequently worked as an ABC broadcaster, covering the 1948 revolution in Czechoslovakia and the Arab-Israeli conflict. From 1949 to 1951, he was the editor of the editorial page at The Denver Post. He was the editor and publisher of the Colorado Springs Free Press from 1951 to 1955, and an associate editor of Collier's Weekly in New York from 1955 to 1956. In 1957 he was a television producer and writer-director at CBS, and in 1958 he was an assistant publisher of American Heritage magazine in New York.
Starting in 1958, Hoyt became a writer full-time, and for a few years (1976 to 1980) served as a part-time lecturer at the University of Hawaii. In the 40 years since his first publication in 1960, he produced nearly 200 published works. While Hoyt wrote about 20 novels (many published under pseudonyms Christopher Martin and Cabot L. Forbes), the vast majority of his works are biographies and other forms of non-fiction, with a heavy emphasis on World War II military history.
After a prolonged illness, Edwin P. Hoyt died in Tokyo, Japan on July 29, 2005, he was 81 years old. Hoyt was survived by his wife Hiroko, of Tokyo, and three children, Diana, Helga, and Christopher, all residing in the United States.
Other books by Edwin Hoyt:
Leyte Gulf: The Death Of The Princeton
Other books of interest:
Iwo Jima – by Richard F. Newcomb