ISBN # 0-7867-1532-4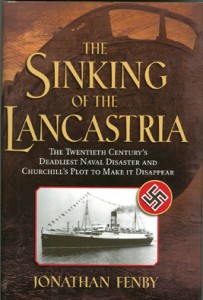 "The SINKING Of The LANCASTRIA" The Twentieth Century's Deadliest Naval Disaster and Churchill's Plot to Make it Disappear. By Jonathan Fenby.  On June 17, 1940 just after the Dunkirk evacuation had supposedly ended in success, several thousand of the many British troops still left in France swarmed aboard the five-decked cruise liner Lancastria. Immediately after they boarded, the twenty year old ship was dive-bombed by the German Luftwaffe, the 17,000-ton RMS Lancastria sank, and hell on earth ensued. Some 800 Royal Air Force men died when a bomb struck one of the ship's holds, and another penetrated through to the ship's hospital. German fighter-planes strafed the oil slick sea, setting it ablaze as British troops banded together singing "Roll out the Barrel" in a courageous attempt to protect any sense of hope that still remained. Some of the survivors in the water went mad. Many choked on the tons of oil that poured out of the vessel's fuel tanks. With 4,000 soldiers, women, and children dead—and some estimates as high as 6,000—the disaster would eclipse that of both the Lusitania and the Titanic combined. The Lancastria sinking was the worst single loss of life in British maritime history and the bloodiest single engagement for UK forces (in terms of lives lost) in World War II. Although the story was picked up in the United States a few weeks later, it was reported only once by any British news outlet, and as the war progressed the tragedy eventually vanished from the public record and the collective memory of a nation under siege. The book, based on accounts by Lancastria survivors and other documents and diaries, is a gripping chronicle of this tragic catastrophe. Author Jonathan Fenby argues that this was the result of a shrewd but necessary kibosh put in place by Winston Churchill in order to preserve British morale; Churchill claimed he simply forgot to tell his administration they could report the news. New hardback edition with dust jacket. 269 pages, 22 black and white photos with 1 map and an index. Retail price $26, save $6
New Book Just  $19.99
Book Reviews:
"A well researched account of this unfortunately little-known incident. Much of it heart-wrenching. One slight problem—to follow what happened to a particular person entails a bit of page-turning, back-and-forth, to follow an individual's story…" – Bruce M. Carpenter
"In June 1940 Britain's war efforts against Germany were truly on the back foot and the Dunkirk evacuations were in full swing. Only by recovering our troops could we hope to regroup, rearm and then rejoin the fight. Off Normandy, an armada of small boats did an amazing job of work ferrying as many troops as possible safely home to England. Further away, off St. Nazaire a few large ships were also working to that same common cause. Then, on 17 June 1940, more people died—as one particular troopship was bombed, sunk and then strafed, than on the more famous losses of the Titanic and Lusitania combined. Sadly, apart from the survivors, the relatives of those who perished plus a few divers who visit the wreck, few people have ever heard the name of that ship. She was the Cunard passenger liner "Lancastria" and in this book the author brings her back to life in a most vivid and poignant fashion.
Nowadays, more and more people are asking questions about what "really" did happen with regard to specific incidents during both world wars—and quite right too. Furthermore, divers have begun to ask all the right questions about the shipwrecks they are visiting. It is accounts, such as this that go a long way towards answering those questions and filling in the gaps created by the historical events which followed the sinking of this once great ship. Altogether, this is more than just a book about a ship that was lost in dreadful circumstances. With the skills of a consummate wordsmith, author Jonathan Fenby has carefully brought this tragedy back to life because people had forgotten it had happened. In so doing, he has created an historical document of great importance—a document which is of great interest to divers and historians alike. If you really want to know how the Lancastria met her end, this book is possibly the only document you will ever need." – Ned Middleton
"An excellent and fast-moving account if you want an informative read on a little-known event in British WW2 history. The loss of the Lancastria, the strafing of defenseless people and the stories of the survivors in this nightmare sinking highlights war at it worst and amply illustrates how everything can change in the blink of an eye." – Rankbajin
The Author:
Jonathan Fenby, a former editor of the "Observer," is the author of several books, including the acclaimed "On the Brink: The Trouble with France." Fenby currently lives in the United Kingdom.
Other books of interest:
The Last Voyage of the Lusitania