ISBN # 0-87113-948-0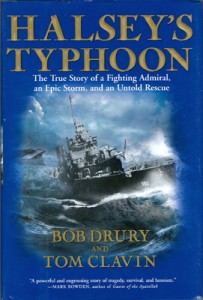 "HALSEY's TYPHOON" The True Story of a Fighting Admiral, an Epic Storm, and an Untold Rescue. By Bob Drury and Tom Calvin. At the height of the Second World War in December 1944, the U.S. Pacific Fleet was struck by a typhoon (Typhoon Cobra) that sank three destroyers and drowned 800 sailors. Authors Bob Drury and Tom Calvin draw on proceedings of a navy board of inquiry and eye-witness recollections to recreate the war time catastrophe. On the one hand, this is an absorbing if disjointed maritime disaster saga in which shrieking winds of 150-mph and monstrous waves over 90 feet tall batter and toss mighty warships to pieces. It's also a study in judgment under pressure, as hard-charging Admiral William "Bull" Halsey keeps his fleet positioned in the storm's path because of faulty weather reports, accusations that he improperly left his station during the earlier Battle of Leyte Gulf and general over aggressiveness.
Closer to the waterline, the authors contrast the fecklessness of Captain James Marks of the USS Hull (DD-350), tossed from crest to trough until the vessel eventually turns turtle as panicked sailors below decks attempt to claw their way free before she disappears beneath the angry waves. The USS Spence (DD-512) absorbs so much punishment that it literally breaks in half, leaving scores of helpless men scrambling for a few undamaged lifeboats. The fabled destroyer USS Monaghan (DD-354) implodes on itself, taking more than 90 percent of its crew to the ocean floor. And aboard the aircraft carrier USS Monterey (CVL-26), a young (and future U.S. President) Gerald Ford dons a gas mask and leads a rescue team into an exploding hanger deck that is ablaze. The steadiness of Captain Henry Plage of the USS Tabberer (DE-418), which braved mountainous seas to rescue survivors. The typhoon ultimately inflicts twice as much destruction and loss of life as the Battle of Midway (June of 1942). The trumped-up leadership parable is perhaps unfair to Halsey and Marks. Still, the authors make their account a vivid tale of tragedy and gallantry at sea.
Book includes an extensive appendix with a list of each warship lost in the typhoon and names of every officer and crewman who perished in the disaster. New hardback edition with color dust jacket, 322 pages, 28 black and white photos, and an index. A large map inside front and back covers. Retail price is $25.00, save $10
New Book Just  $14.99
Book Reviews:
"Whether you are a history buff, a seaman, or just someone who desires a wonderfully exciting first-hand account of one of the U.S. Navy's worst encounters with nature's fury, this is the one to read! As an ex Destroyer sailor myself, this book renewed my love for the sea and the Navy. Even the political nature of the Navy's Board of Inquiry was interesting. This was a 2 day read for me because I simply could not put it down. Some reviewers state the mistakes in 'Navy jargon' by the authors. Trust me, this will take nothing from this superb book! 5 stars is not a good enough rating. Don't miss this one!" – Raymond H. Mullen
"I was an officer on a destroyer escort, the USS Hilbert, DE-742, which was part of Halsey's task force, which is the subject of this book. I was also Deck Officer, during the worst night of the typhoon, and have the most vivid memories, of a harrowing experience. This book is an excellent story of Admiral Halsey's entire operation, and all aspects of this Typhoon, Cobra! It gave me background information, which was new to me. It is very well told, in a narrative manner. which is never dull. I recommend it to every DE sailor and to anyone who is a fan of the US Navy's WW2 fight against Japan." – Brewster Hanson
"This is a magnificent read because it was written by people who make their livings writing. The turns of phrase, the interweaving of different time periods, people and ships in, out, and back into the story, even the use of terms that are more easily understood than those written in ancient mariner lexicons make this book refreshingly easy to read and understand. Maybe it helped to have several dozen Navy people editing and helping with the composition. You can almost hear the howling winds and see the translucent greens of the water. Nasty business to be sure, here so eloquently told, on a par with Joseph Conrad. Thank you everyone for a job very well done." – Thomas McKnight, old Marine, Washington DC.
"There are many unknown stories of WW II. One of the lesser known stories is about Admiral Halsey's fleet that was caught in a deadly Typhoon. The story is full of first person accounts from people who somehow lived through the typhoon, including some who floated in the stormy ocean for days. I plan to read the book again… that's high praise." – Amazon Bob
Other books of interest:
The Battle of Leyte Gulf – By Adrian Stewart
The Battle Of Leyte Gulf – By Thomas J. Cutler
The Battle To Save The Houston
Ghost Fleet of the Truk Lagoon