ISBN # 0-7603-2156-6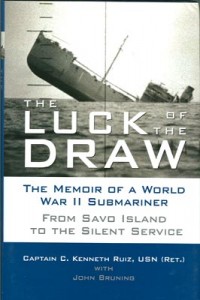 New Book  $29.95 Last of our Inventory!
Book Reviews:
"You start off in an out of control crash dive to your imminent death and Kenneth Ruiz has you immersed in a Tom Clancy styled epic, the only difference, this is a real life and death struggle. Not only does the crew have to battle the Japanese but they also are fighting the antiquated USS Pollack. You won't find the author giving you family history like a lot of military authors, instead you are with the crew 250 feet below the surface being depth charged or on the surface, with the spray in your face, charging after the enemy. For the movie goer there is "DAS BOOT" for the reader there is Kenneth Ruiz's "The LUCK of The DRAW". – B. Hall
"I bought this book simply because I had served with Captain Ruiz later in his career (Fighter Squadron 102). As a lowly Petty Officer 3rd. class I had little contact with him, a Lieutenant Commander, and the "Navy's caste system" prevented me from getting to know him. However I remember him as an unassuming, no nonsense, by-the-book officer and Pilot who commanded our respect.  As an old "Airdale" with only "movie" knowledge of subs, I was pleasantly surprised to find this a "can't put down" tale of a true American Hero. Buying and reading this book was my LUCK of the DRAW." – J.E. Diggins
The Author:
C. Kenneth Ruiz graduated from the United States Naval Academy in 1942. After his service in surface ships and submarines in World War II he became a naval aviator and was executive officer of a jet fighter squadron during the Korean War. Ruiz later commanded an attack aircraft squadron and two different ships during combat in the Vietnam War. Captain Ruiz and his wife Judith now reside in Las Vegas, Nevada.
Other books of interest:
American Cruisers Of World War II