ISBN # 1-57488-222-8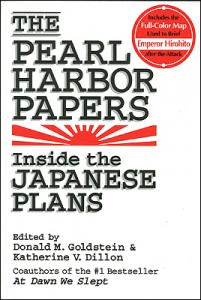 "The PEARL HARBOR PAPERS" Inside the Japanese Plans. Edited by Donald M. Goldstein and Katherine V. Dillon. Goldstein and Dillon are the co-authors of "At Dawn We Slept" (with the late Gordon Prange), this is an invaluable collection of Japanese primary source material pertaining to the attack on Pearl Harbor. Included are monographs by Commander Minoru Genda, the tactical genius behind the attack; letters of Admiral Isoroku Yamamoto, who conceived the operation and pushed it through to acceptance; plus detailed war diaries that cover shipboard activities throughout the voyage to Hawaii, the December 7, 1941, attack itself, and the return voyage home. Perhaps the most remarkable document is an extended report titled "An Intimate Look at the Japanese Navy," in which "official" Japanese historian Masataka Chihaya reviews the imperial Navy's successes and failures, assesses tactics and weapons used in the war and concludes with a devastating critique of leadership blunders. The volume sets to rest the argument that U.S. President FDR knew of an imminent attack because American code-breakers monitored the task force's messages; the documents establish unequivocally that radio silence was maintained. A veritable treasure trove for scholars and Pacific War buffs, this collection also includes the after-action map prepared for Emperor Hirohito, which has only recently been recovered.
Donald M. Goldstein, the dean of Pearl Harbor historians, and his frequent collaborator, Katherine V. Dillon, explain and place into context secret plans, battle group histories, and intimae letters and diary extracts of the key Japanese naval officers. It also features a rare and unique full-color reproduction of one of the most important documents of the war––the to-secret map drawn by the attack's lead pilot, Mitsuo Fuchida, to show Emperor Hirohito the battle's devastating results. "The Pearl Harbor Papers" puts readers inside the Japanese thought process leading up to, during, and after the battle that changed the world. New softbound edition, 384 pages, maps, diagrams and index. No photos.
New Book Just  $13.88
Book Reviews:
"The Pearl Harbor Papers" is a great body of insight into the planning of the December 7, 1941 attack. Although some of the charts breaking down the unit compositions are redundant (due to the same information in several different accounts), a look into the mind of Minoru Genda, the brilliant planner of the strike, is invaluable. Another interesting account is the battle diary of the destroyer Akigumo, which offers a unique view from that of a screening vessel. A real good supplement to the three volumes authored by Gordon Prange about the "Day of Infamy". – John V. Seward
"What stopped the invasion of Pearl Harbor? Who protected the valuable oil supplies? How much did FDR know about Japan? The Japanese side of the story as told by the folks who brought to life the US side, (At Dawn We Slept, etc) Prange, Goldstein and Dillion. These source documents explain how and why the Sons of Nippon choose the course of action that resulted in the attack on December 7, 1941. This is the true story of the story behind the headlines and the hysteria. A must read for anyone who wants to understand today's and yesterdays Japan." – Carl
The Editors:
Donald M. Goldstein, Ph.D, professor of public and international affairs at the University of Pittsburgh, is the world's leading expert on Pearl Harbor. He and fellow retired U.S. Air Force officer Katherine V. Dillon teamed with Gordon W. Prange to write: "At Dawn We Slept," "Miracle at Midway," "Pearl Harbor; The Verdict of History," "December 7, 1941" and "God's Samurai: Lean Pilot at Pearl Harbor." Their books with J. Michael Wenger include "The Way It Was: Pearl Harbor––The Story and Photographs."
Other books of interest:
A Battle History Of The Imperial Japanese Navy (1941-1945)
Infamy, Pearl Harbor and it's Aftermath