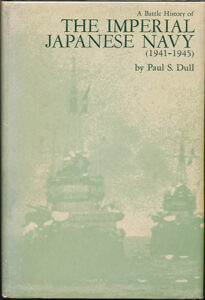 "A BATTLE HISTORY Of The IMPERIAL JAPANESE NAVY (1941-1945). By Paul S. Dull. Foreword by Dean C. Allard. This unique book based on hitherto unused Japanese sources, tells the story of the Pacific War from the viewpoint of the Japanese themselves, focusing on both the celebrated and lesser-known sea battles. The author has traced the development of the war, back to its first causes; the economic, political, and cultural forces that led, step-by-step, to the devastating surprise attack on Pearl Harbor in 1941, and the quick establishment of the Greater East Asia Co-Prosperity Sphere. The author has focused his efforts on the major engagements of the war; Coral Sea, Midway, the crucial Solomons campaign, and the last ditch battles in the Marianas and the Philippines. This unusual volume, several years in the making, fills a void in the story of the naval war in the Pacific, corrects errors of previous writers, and furnishes a wealth of new information for the history readers. 1978 Harback (Book Club) edition with dust jacket. Jacket is wrapped in protective plastic  433 pages, with a staggering, 44 black and white photos and 41 maps. Includes an appendix and index. Large Pacific map with Japanese labeling printed inside the front and back covers.
Good Cond.   $21.88
The Author:
Born in Hillyard, Washington on March 5, 1911, Paul S. Dull became a professor of history and political science at the University of Oregon,
where he taught from 1946 until 1973. He earned his B.A. (1935) and Ph.D. (1940) in Political Science from the University of Washington,
and proudly served during World War II, as an officer in the United States Marines from 1941 until his discharge in 1944. Mr Dull passed away
March 23, 1981, he was 70.
Other books of interest:
The End of The Imperial Japanese Navy
Infamy, Pearl Harbor and it's Aftermath
A Battle History Of The Imperial Japanese Navy (1941-1945)
The Japanese Submarine Force and Wolrd War II
The Last Voyage of the Graf Spee