ISBN # 0-451-21951-1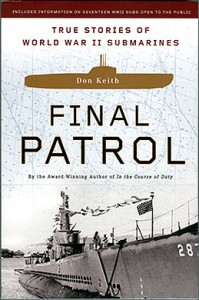 New Book  $14.99
Book Reviews:
"I have lots of submarine books, but this one gave me a real kick. You could spend hours on the internet to figure out which subs survive, their history, and where they are today. The author has put all of this at your fingertips, plus put a ton of information for contacts and web sites in the appendix. Each sub has a nice one page summary, also, which is a nice touch. I would like to have seen a few more photographs, although every sub is pictured. This really isn't a big deal, however, as the author provided so many web sites in the book, that he more than takes care of this aspect. Nicely done." – Mike Miner
"This is an extremely interesting look at World War II submarines that nearly all made significant contributions to the outcome of the war. Better yet, the subs in this book are still around, converted to museums and open to the public. I've been to a few of the subs listed in this book, but I didn't get the full picture of exactly what they had done in the war until I picked this up. A must for any World War II buff." – B.M. Howard
The Author:
Don Keith is an award-winning author, journalist, and broadcast personality. He was twice named Personality of the Year by "Billboard Magazine." His first novel, "The Forever Season," was named Fiction of the Year by the Alabama Library Association. "Gallant Lady," his true story of the World War II submarine USS Archerfish, was a featured selection of the Military Book Club. Don also wrote "In The Course of Duty" and "Final Patrol." Don lives in Indian Springs Village, Alabama, with his wife, Charlene.
Other books of interest: