ISBN # 0-451-21951-1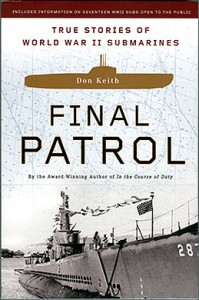 "FINAL PATROL" True Stories of World War II Submarines. By Don Keith. The riveting story behind the submarines that wreaked havoc during World War II—from the award-winning author of In the Course of Duty. During World War II, the U.S. Navy's submarine service suffered the highest casualty percentage of all the American armed forces, losing one in five submariners. But despite the odds, these underwater warriors accounted for almost 60 percent of Japanese shipping losses, and were a major factor in winning the war. 16 U.S. submarines—and one German U-Boat—that saw action during World War II are now open to the public. Most have been restored and authentically equipped. Final Patrol takes a fascinating look at these subs and the personal stories of the brave sailors who lived, fought, and often died in them. Now, visitors can climb into these cramped steel cylinders, peer through their torpedo tubes, and imagine diving under the sea—perhaps for the last time—to stalk a fanatical enemy who threatened our nation's freedom. Some of the boats included in the book are: USS Cod (SS-224), USS Drum (SS-228), USS Bowfin (SS-287), USS Ling (SS-297), USS Razorback (SS-394), U-505, USS Batfish (SS-310), and USS Pampanito (SS-383). Author Don Keith also co-authored "Gallant Lady." This new softbound book has 331 pages, and 22 historic black and white photographs, an appendix and index.
New Book  $14.99
Book Reviews:
"I have lots of submarine books, but this one gave me a real kick. You could spend hours on the internet to figure out which subs survive, their history, and where they are today. The author has put all of this at your fingertips, plus put a ton of information for contacts and web sites in the appendix. Each sub has a nice one page summary, also, which is a nice touch. I would like to have seen a few more photographs, although every sub is pictured. This really isn't a big deal, however, as the author provided so many web sites in the book, that he more than takes care of this aspect. Nicely done." – Mike Miner
"This is an extremely interesting look at World War II submarines that nearly all made significant contributions to the outcome of the war. Better yet, the subs in this book are still around, converted to museums and open to the public. I've been to a few of the subs listed in this book, but I didn't get the full picture of exactly what they had done in the war until I picked this up. A must for any World War II buff." – B.M. Howard
The Author:
Don Keith is an award-winning author, journalist, and broadcast personality. He was twice named Personality of the Year by "Billboard Magazine." His first novel, "The Forever Season," was named Fiction of the Year by the Alabama Library Association. "Gallant Lady," his true story of the World War II submarine USS Archerfish, was a featured selection of the Military Book Club. Don also wrote "In The Course of Duty" and "Final Patrol." Don lives in Indian Springs Village, Alabama, with his wife, Charlene.
Other books of interest: