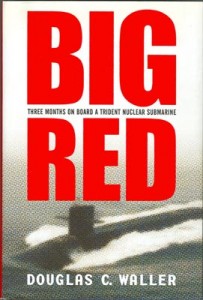 "BIG RED" Three Months on board a Trident Nuclear Submarine. By Douglas C. Waller. The Trident nuclear submarine is the most complex machine the United States Navy has ever produced, a $1.8 billion marvel crammed with more modern military technology than any other vessel in the world. It is an 18,750-ton steel monster, taller in length than the Washington Monument and wider than a three-lane highway at its center. Deep beneath the ocean, it can sail silently for months, practically impossible to detect by the enemy. And the twenty-four ballistic missiles on board just one of these subs have enough strategic nuclear warheads to unleash twice the explosive energy detonated by all the conventional weapons in World War II.
Now for the first time, veteran Time Magazine correspondent Douglas C. Waller takes you on a tension-packed, three-month patrol deep in the Atlantic Ocean and inside one of these Tridents, the USS Nebraska (SSBN-739). Granted more access to these awesome submarines than any journalist before, Waller penetrates one of the most secretive worlds in the U.S. military.
The Cold War may be over, but the U.S. Navy still has Tridents lurking the oceans, always ready at a moment's notice to unleash a nuclear holocaust. In chilling detail, "Big Red" reveals the top-secret procedures for starting World War III––the secret codes, the elaborate fail-safe mechanisms, the highly classified battle tactics for nuclear combat.
This book takes you into the closed society as a witness to secret rituals and life experiences where submariners, underwater for months, hopes never to unleash the destructive power they command. It's a ride you'll never forget!
First edition Hardback, 336 pages, 32 black and white photos (each taken during this patrol), 1 diagram of the USS Nebraska, a crew roster, and index. No longer in print in a hardback edition.
Good Cond.  $11.88
Book Reviews:
"As a former submariner on U.S. fast attack submarines, I was skeptical as to how accurate this book could be. I was hooked before the end of the first chapter––in fact, I was blown out of the water, pardon the pun. The author must have not only gotten immense cooperation from the navy, but also from many of the sailors. The level of candor in this book is unparalleled. The book started to read like a glowing review of submarines, where no one was less than 100% gung-ho navy. But you soon start to see some of the attitudes of real people––not everyone is happy in their job, many people become exhausted, lonely, and scared––it's not all medals and photo opportunities. I can't wait to have my family and friends read this book––it discusses the life I had lived in subs in detail and clarity that I could never hope to achieve––you won't get a more accurate picture without signing on the dotted line." – Michael Urban
"I finished this book wanting to read more. As I read the part about the simulated launch of the missiles, I was chilled to the bone about what would happen if they had to be launched for real. I have a better appreciation of the Navy, especially its submarine service, because now I know that it is in excellent hands." – Maggie Kimura
"The USS Nebraska is one of the best submarines out there. It is almost constantly on duty, sailing underwater for months at a time, its crew at the ready to launch a horrific death upon whomever the President of the United States tells them to. This is the story of how they do what they do, and how they cope with life in cramped quarters, no natural sunlight, 18 hour days rather than 24 and the pride these men take in doing their job. Waller spends little time trying to editorialize what the men of the USS Nebraska do while underway, rather he lets them tell their stories through interviews and stories. By using this no nonsense approach Waller allows the men speak for themselves and let you look into a world very few outsiders have ever been able to peer into. I felt honored just to have read "Big Red" and I hope I never have to have the crew do their job." – Mike Nutkin
"For so many young men, submarines are the things of fancy––objects of awe that create dreams. Many people are members of the Submarine corps, but for those of us that are not, we have to rely on people like Douglas Waller to help us understand all that goes on during a "regular" patrol. Waller was granted uncommon access to spend a patrol on board the USS Nebraska (SSBN-739), and gives us a wonderful account of those three months.
Starting with the challenging departure from home port (this particular submarine is not based at a shore port like some ships; instead, it is based slightly inland, which requires travel down a lengthy channel before reaching the ocean), Waller engrosses the reader from page one. I enjoyed the entire book––I felt as though Waller was giving me the opportunity to spend three months on patrol (although I did it in a few days, reading through the 400+ pages that he has written for us). I never once found myself wanting less––I do not think that he included any non-relevant information or extraneous details. After reading this book, I have a better understanding of how tough the life of a submariner can be, and why these men demand our ultimate respect. Three months sitting underwater with virtually no human contact except for your shipmates must play havoc with a sailors' psyche, but they all perform admirably. I would highly recommend this book to anyone who has an interest in the United States Naval Submarine Corps." – Eric Hobart
"Surprise nuclear war launched from the sea remains the horrific threat of a next world war. "Blind Man's Bluff" uncovered the men and the spy missions designed to do anything to prevent that. Now "Big Red" is a deployment with the men who trudge over missile bay doors on their way to work and who sleep yards from the warheads they must be ready to fire should the unthinkable ever happen." Sherry Sontag, co-author of Blind Man's Bluff
The Author:
Born in Norfolk, Virginia on June 30, 1949, Douglas C. Waller holds a B.A. in English from Wake Forest University and an M.A. in Urban Administration from the University of North Carolina at Charlotte. Waller is the congressional correspondent for TIME Magazine. Before joining TIME in 1994, he was a defense and foreign policy correspondent for Newsweek Magazine. Before joining Newsweek in 1988, he spent eight years working in the U.S. Congress, serving as a legislative assistant on the staffs of Representative Edward J. Markey and Senator William Proxmire. Waller began his journalism career with reporting stints at the Greensboro Record and Charlotte News in North Carolina. He lives in Annandale, Virginia with his wife and has three children.
Other books of interest: