ISBN # 0-465-05185-5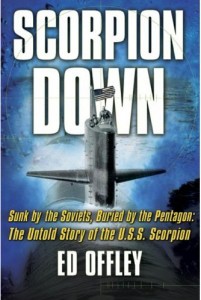 "SCORPION DOWN" Sunk by the Soviets, Buried by the Pentagon: The Untold Story of the U.S.S. Scorpion. By Ed Offley. The loss of the nuclear submarine USS Scorpion (SSN-589) on Memorial Day, May 27, 1968, has been commemorated by an American admiral as "one of the greatest unsolved sea mysteries of our era." To this day, the United States Navy officially describes it as an inexplicable accident. After the sub failed to return to port at the Norfolk Naval Station following a routine three-month Mediterranean deployment, a frantic search ensued (the largest U.S. naval operation since the Cuban Missile Crisis). Nine days later the Navy announced that the submarine and the ninety-nine crewmen on board were presumed lost. After months of sifting through evidence and sworn testimony, the official U.S. Navy Court of Inquiry declared that it was unable to determine the certain cause of the Scorpion's sinking. For decades, the real story of the disaster has eluded journalists, historians, and family members of the lost crew. But, as military reporter Ed Offley reveals, a handful of Navy and government officials knew the truth; the sinking of the USS Scorpion wasn't an accident—it was an act of war. In this stunning work of investigative journalism, author Ed Offley reveals that the U.S. Navy knew from the very beginning that Scorpion had been sunk by the Soviets. Even before Scorpion failed to show up at port, senior Navy officials had initiated an elaborate cover-up to suppress the real story of the undersea battle. The Navy has concealed the truth from the general public and families of the lost crewmen for nearly four decades: All 99 American's sailors aboard Scorpion died in combat. Here in "Scorpion Down" Ed Offley tells the true story of the USS Scorpion for the first time. In exhilarating narrative, Offley tells the dramatic story of a secret battle that could have brought about World War III, and he conclusively demonstrates that the Navy's official story about the Scorpion incident—from the frantic open-ocean hunt for the wreckage to the Court of Inquiry's final conclusion—is nothing more that a carefully-constructed series of lies. New hardback edition with color dust jacket. 482 pages, 35 black and white photographs, 4 maps, and 1 diagram. A USS Scorpion crew roster, glossary and an index. Retail was $27.50, save $5.55
New Book Just  $21.95
Book Reviews:
"I was in Rota, Spain serving in the Navy at the time Scorpion was lost. The events detailed in the book are the best and most authentic I've ever read. The Naval community held much information back from the public during the 60's concerning the Soviets. This is just one example of many." – RM Sparks
"For anyone who has served in the surface Navy this book is a must read especially if you consider yourself a Cold War Warrior. Little did we know how close knit the submarine surface was and still is. A series of concatenous events form the basis for the plot of what could well be a spy novel. There is evidence of meticulous research over a period of twenty-five years that lead to a conclusion that challenges the thinking mind. Much of the story is incredulous and one is constantly challenged as to the veracity of the events. How could so many navy personnel in high places carry out such a plan as described by the author without leaving an audit trail? Are the conclusions valid based upon the research plausible or do they just fall into place for a gigantic HOAX? See for yourself but don't be guiled by the impeccable detail." – Phylipp Dilloway
"This story is very personal for me. I have followed all the stories regarding the USS Scorpion. There have been many conspiracy theories. Although I do not think we will ever get the real story, I feel after reading this book amongst many written on the subject that this one comes the closest to what I believe happened to my Uncle Ron as well as the other 98 men aboard this submarine. Whether you are personally interested in what became of this sub or if you simply have an interest in the history of US war this book is a fascinating page turning from beginning to end. I greatly appreciate the author of this book taking the time to do all the research to write this spectacular view of what happened that fateful day out at sea." – Laurie
The Author:
Ed Offley has been a military reporting specialist for newspapers and online publications since 1981, including the "Ledger-Star" in Norfolk, Virginia, the "Seattle Post-Intelligencer," Stripes.com, and "DefenseWatch" magazine. He is currently Military Reporter for the "News Herald" in Panama City, Florida. A graduate of the University of Virginia, Offley served in the United States Navy in Vietnam. He lives in Panama City Beach, Florida, with his wife Karen T. Conrad.
Other books of interest: